A customer from Dubai, UAE recently ordered a branch shredder with a capacity of 1 ton per hour from our factory. So far, the customer has received our crushing equipment and put it into use. The UAE customer is very satisfied with the results of our branch shredder crusher.
Why use a branch shredder crusher?
The branch crusher can crush all kinds of branches into debris or wood chips. In the urban greening work, and the maintenance of orchards and forest gardens, we often have a large number of branches and leaves to be treated.
The thin branches and leaves cut from the tree are very inconvenient and time-consuming during transportation. However, it is very convenient to transport these branches into debris by using a branch crusher.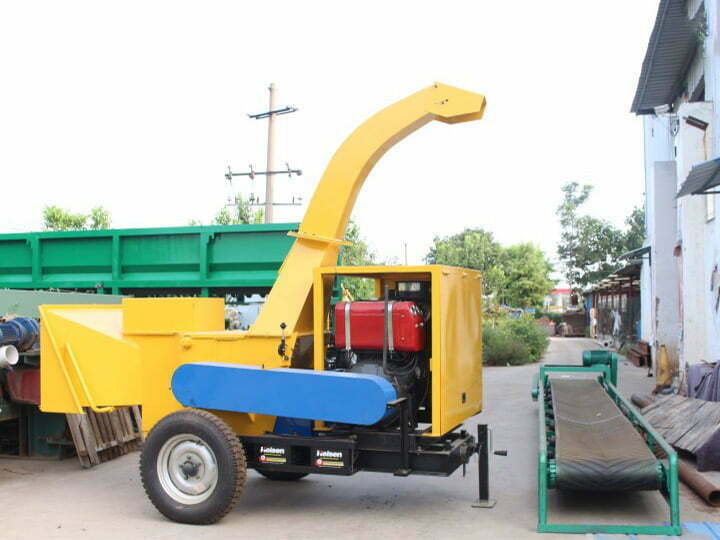 The debris crushed by the branch crusher can be reused, for example, for processing wooden boards and wooden boxes, or for making biomass fuel.
Details of the UAE order for 1 t/h branch shredder crusher
The UAE customer purchases a branch shredder crusher to crush shredded branches in the forest farm he manages into debris. Then he will use a wood shredder with a higher degree of crushing to further crush these branch debris into sawdust with a size of 3-5mm.
The customer then used a dryer to dry the sawdust to a moisture content below 10%. Then use the sawdust briquette machine to extrude these dried sawdust into a rod-shaped solid, that is, pini-kay.
The customer chose the diesel-driven mobile branch shredder, which is convenient for him to use in the woods and mountains, and the movement is more flexible.